22 March 2017
Reading time 6 minutes
Jetty opening in China highlights Kalmar Innovative RTGs
Kalmar and Rainbow-Cargotec Industries (RCI) celebrated the grand opening of a new Jetty in Taicang, China on 2 March 2017. The new jetty will anchor and spur Kalmar's growth in the Asia-Pacific region by making possible delivery of fully assembled Kalmar yard cranes from RCI.
The new F-shaped jetty can berth vessels of up to 50,000 DWTs. The outer berth has a total length of 361 metres and a water depth of 12 metres, and is well equipped with mobile cranes. The inner berth, which mainly services bulk carriers, has a 95 metre long quay with a maximum throughput capacity of 2,000 tons.
The new jetty features a platform to facilitate loading and unloading heavy materials, such as steel, pipe and wind tower, and provides storage capacity.
Nearly 200 delegates from around the world attended the highly successful opening event, including Taicang government officials, representatives of Cargotec, Jiangsu Rainbow Heavy Industries, RCI, Taicang Runhe Port and the media. The highlight was the introduction of Kalmar's latest RTG developments.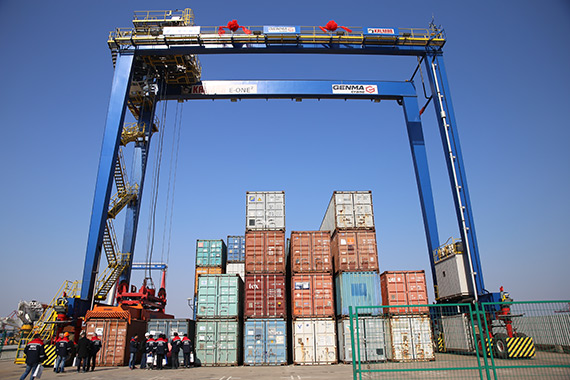 A milestone for a sustainable future
"The completion of the Runhe Pier is a remarkable achievement from RCI and it demonstrates our shared vision for the future. The newly established jetty utilises the geographical advantages of the Yangtze River, and provides the best logistics and transportation support to RCI," says Antti Kaunonen, President of Kalmar. "The joint venture with Jiangsu Rainbow Co., Ltd. supports our business development in China, and helps us to shape and cement our leadership position in ports and terminal automation."
The latest Kalmar RTG developments
The opening provided a forum for Kalmar to introduce its newest RTGs, and showcase their ability to meet their customers' needs for energy-efficiency and eco-friendliness in crane technology. The team has successfully integrated local technological know-how into a world class design. The newly introduced RTGs include energy efficient hybrid power units and fully electric zero emission cranes.
"Our RTG development is driven by safety, productivity and green values, which are high on the industry agenda. To improve productivity, we have developed different driver assisting features that make it possible to squeeze time, down to seconds, from each container cycle. Automation is fueling the demand for intelligent safety solutions, and we at Kalmar are developing automated RTGs that meet the demand," says Timo Alho, Vice President, Crane Solutions, Kalmar.