13 December 2016
Reading time 3 minutes
Getting a handle on the new empty container handler
Kalmar's next generation of empty container handlers offers unprecedented flexibility with a wide range of lifting and lowering capacities and performance options.
Customer demand for less complex machines was crucial to the development of the DCG80-100, which comes in a range of single and double container stackers in 8, 9 and 10 tonne capacities with a cabin that can be situated in either a high or a low position on the chassis.
The DCG80-100 has a more modular design than previous empty container handlers, says Roger Karlsson, Manager Development Group, CCH Research, Development and Engineering.
"The machine features a new generation of attachments for either single or double container handling. For the former, customers can choose lifting heads with either standard twistlocks for ISO containers or a wide twistlock position for both ISO and wide body containers," he says.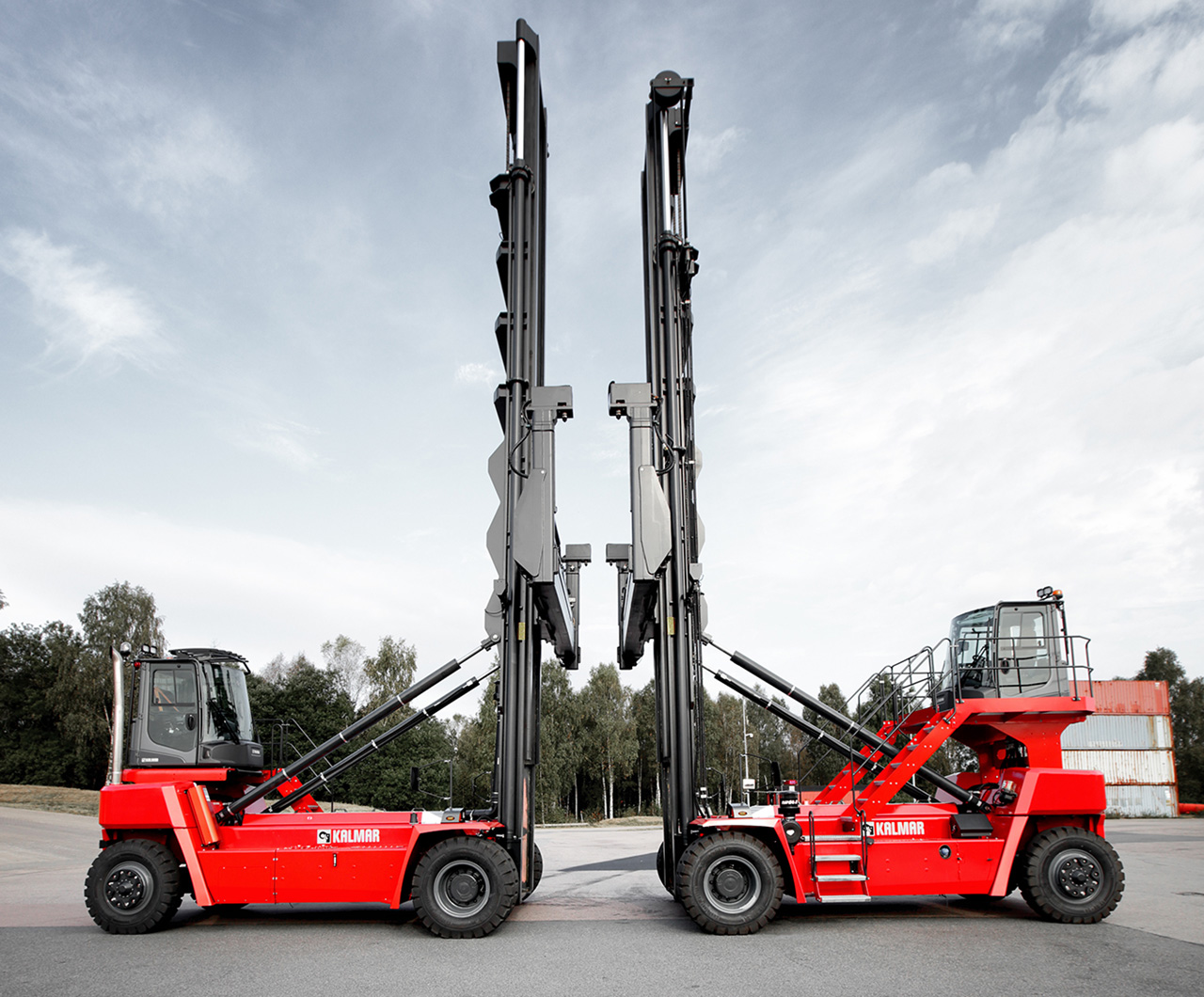 The double stackers come with lifting heads with either lift hooks and hydraulic side clamps to handle one or two standard 20-40ft containers, or a lifting head with additional safety wedges that can lock in single containers and handle containers larger than 45ft in length.
"The spreader end beams attachment is a completely new, simplified design that removes the need for hydraulic controlled flow," says Karlsson. "The installation of the hydraulics has also been simplified with the use of a large main valve that controls lift, lowering and tilt of the mast as well as the attachment."
Customer feedback indicates that the hydraulic performance in the DCF80-100EC is good enough and the vehicle speed performance can be too high in some applications.
"We have developed two new drive trains, one high performance and one mid performance. The high performance drive train has a similar performance to the DCF80-100, but it is up to 20% more fuel efficient. The mid performance has slightly lower performance, although it is still up to 14% more fuel efficient," explains Karlsson.
Both drive trains come with three operating modes – power, normal and eco – that can reduce fuel consumption considerably. Easier access for maintenance, longer servicing intervals and advanced diagnostic tools and monitoring systems also contribute to significantly reduced running costs.
New features of the DCG80-100 include:
High and rear mounted cylinder package for improved stability and toughness
Upgraded drive axles with oil-cooled wet disk brakes
Wider rear steering for greater stability
Choice of engines that meet EU Stage 3 and 4 and EPA Tier 3 and 4 emissions standards
Text: Paul Golden, Photos: Kalmar