27 June 2017
Reading time 5 minutes
A new perspective on RTG safety and efficiency
The Kalmar RTG range is redefining cargo-handling solutions by fusing pioneering experience with flexible, state-of-the-art technology.
The important questions are how to improve sustainability without sacrificing productivity, and how to deliver effective results without compromising safety. These aspects are crucial in the container handling industry where efficiency and safety must work smoothly in tandem. Here, Kalmar has all the bases covered with a cutting edge range of RTGs built to improve the reliability, safety and productivity of global terminal processes.
The next generation of RTG technology
The durability of Kalmar's gantry cranes is a proven, going on several years now. With the industry leading performance of Kalmar's previous E-One range, the newly and aptly named Kalmar RTG cranes pick up where the E-One series left off: They are more reliable than ever before while also offering significant technological improvements. The new name also reflects international confidence in the Kalmar brand – it comes with a seal of quality.
Productivity from digitalisation
Implementing the latest technological solutions has changed the Kalmar RTG range in a number of ways. Timo Alho, Vice President of Intelligent Crane Solutions at Kalmar, says: "We have a variety of improvements for both productivity and safety via digitalisation. By utilising the cloud-based software, Kalmar Insight, our crane operations can be connected, tracked and monitored remotely with real-time diagnostics. Safety has been enhanced with stack profiling and the intelligent anti-sway and anti-collision technologies. Crane operators can now use SmartView – a camera-based technology that gives them a line of sight around and beyond blind spots, which increases both operational efficiency and safety."
"It is as powerful and efficient as it is silent and friendly to the environment."
Digitalisation also plays a big role in fully automated solutions with the electro-mechanical Anti-sway technology serving as an excellent great example. Based on separate winches and an intelligent control algorithm, its software and control technology is a marked improvement over the mechanical and stiff rope reeving systems.
"We can also provide an optional, automation-ready control system, which can be converted to remote controlled or fully automated RTG functionality at any time. Our new operational interface (GUI) is intuitive and user-friendly, and our customers have been delighted that it doesn't require customisation. When our customers are happy, we're happy," says Alho.
Raising sustainability goals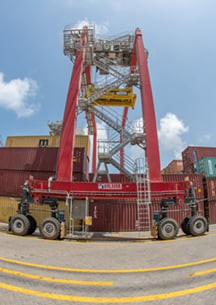 Kalmar's RTG range is not just built to improve operational efficiency. It is also developed with the goal of protecting the environment. "With the most energy-efficient and low emission RTG range in the industry, our sustainability goals are on a par with the performance of our cranes," Alho says.
A good case for this is the Kalmar SmartPower™ RTG which optimises fuel consumption and increases cost efficiency by utilising an intelligent power management system. Its smaller diesel engine may not be ideal for the heaviest loading scenario, but in actuality it provides more efficiency in the most common loading situations. SmartPower™ RTG ensures that the most economical engine RPM is used at all times during operation while controlling speed and acceleration to reduce peak power needs. With the most energy-efficient engine range and a fuel requirement of approximately 9 litres per hour, it saves up to 10 litres per hour compared to other diesel-powered RTGs.
Another energy-efficient example is the modularly designed Kalmar Hybrid™ RTG which utilises hybrid battery technology to reach higher fuel savings. Without sacrificing productivity, its regenerative energy is stored and reused in hoisting with lower energy consumption, emissions, noise and operating costs.
However, when it comes to environmentally-friendly RTG solutions, few can match the sustainability of the Kalmar Zero Emission™ RTG. As the name suggests, it incorporates a fully electric power system that produces zero diesel emissions or engine noise to impact the surrounding environment. Green it may be, but Kalmar Zero Emission™ RTG makes no compromises on productivity. Equipped with Smartrail®,automatic gantry steering and a container position verification system, it is as powerful and efficient as it is silent and friendly to the environment.
More reliable than ever
"Reliability is a big factor in our business, and it's a fact that Kalmar has a reputation for being reliable," Alho says. "Our service intervals are number one in the industry and we've focused on further solidifying this by utilising simple, all-electric designs for our RTG range with fewer moving parts and no hydraulics. We can also adapt the Kalmar RTGs to different layouts and customer requirements. For example, the portal width can be built up to 10+1 wide, which makes the crane ideal for terminals requiring high stacking density and intermodal yards."
With RTG solutions, reliability doesn't stop with products and services. It's also about availability and delivery capability. Kalmar's global network, unique in the industry, serves its customers around the world – wherever they are. The recently opened jetty in The Port of Taicang in China is a testament to this in providing a significant boost to deliverability and meeting time demands in the Asia-Pacific region.
Global size and reach aside, producing reliable products also depends on understanding future trends and seeing where the industry is headed. "We emphasise a philosophy called 'Prepared for the Future'. This means that the smart technology utilised in our RTGs is also future-proof and ready for the next step on the path towards greater automation. Our solutions satisfy ever tighter emission regulations with environmentally-friendly and cutting edge technology. This is another dimension to even better reliability in our products and services. By investing in Kalmar RTG solutions, our customers are not just investing in quality. They are investing in their future," Alho concludes.
Text: Juho Paalosmaa