For pop culture fans around the world, Nashville, Tennessee, is synonymous with country music and the iconic Grand Ole Opry. But this city of 1.8 million in the U.S. south has another claim to fame. It is home to Alley-Cassetty Truck Center, one of America's top Kalmar Ottawa terminal tractor dealerships. And for 36 years, Alley-Cassetty has been striking just the right note with customers with top-notch service.
The Nashville dealership has played an important role in popularising Kalmar Ottawa terminal tractors in the U.S. market - due in no small part to the dedicated efforts of legendary employee, Bill Crouch, who officially retired two years ago and recently celebrated his 90th birthday. Known fondly as 'Mr. Ottawa,' "he sold more Kalmar Ottawas in the U.S. than any other salesman," says General Manager Tommy Woodliff.

In 1980, when Alley-Cassetty Truck Center was established through the buyout of an existing truck dealership, it typically sold only 10 to 15 Kalmar Ottawa terminal tractors a year, says Brian Dever, the dealership's Kalmar Ottawa truck market specialist. By 2006, that number had jumped to 255. And despite the 2008 global financial crisis and a lagging economic recovery, Alley-Cassetty Truck Center still sells an average of more than 150 new Kalmar Ottawas a year.

Kalmar Ottawa, based in Ottawa, Kansas, has recognised Alley-Cassetty as a Premier Partner more than 10 times, thanks to consistently high scores in its annual Dealer Performance Review. Jacob Sipple, Manager, Marketing & Communications, Kalmar Americas, says the honor recognises dealers for superior performance in every aspect of their business.

In April 2016, Alley-Cassetty Truck Center opened a second location in Birmingham, Alabama, to better serve customers in the southern half of its large sales district which covers Tennessee, Kentucky, and parts of Alabama.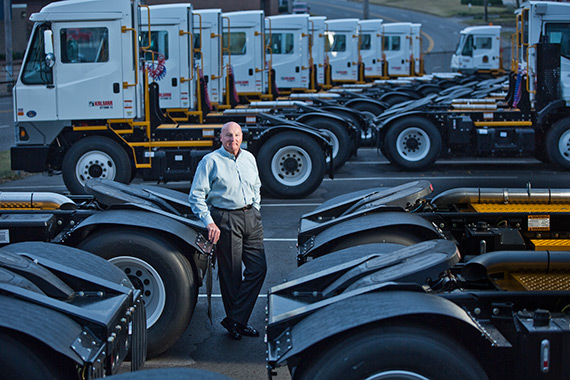 Tommy Woodliff
Celebrating 60,000 Kalmar Ottawa tractors
The dealership is owned by Nashville-based Alley-Cassetty Companies Inc., which was established in 1879 as a residential coal supplier. The company is no longer involved in the coal business, and diversified in 1971 into brick and stone for builders. Almost a decade later, it added the new and used truck dealership and a full-service freight operation. "When they purchased Custom Truck Sales," notes Woodliff, "they needed a means to haul their coal and their brick and block shipments."

Thanks to the efforts of Bill Crouch and Brian Dever, Alley-Cassetty Truck Center has won the loyalty of large, Kalmar Ottawa terminal tractor customers over the years like Cookeville, Tenn.-based Averitt Express Inc., a leading trucking firm, and Dollar General Corp. of Goodlettsville, Tenn., a Fortune 500 dollar-store retailer. At a special ceremony at the Kalmar Ottawa plant last summer, Averitt took delivery of the 60,000th Kalmar Ottawa terminal tractor to come off the line.

In the time-tested Kalmar tradition, Alley-Cassetty has earned its customers' loyalty by meticulously tending to their needs and by continually updating its product knowledge - especially with the introduction of the Kalmar Ottawa T2 in 2014. "We're very customer-focused, and I attribute that to Bill and Brian," says Woodliff. "The sale does not end when the truck is sold. The relationship continues for many years, and we've built the business on that basis."

Alley-Cassetty Truck Center has benefited from Kalmar Ottawa's market dominance, he adds. The dealership's rental business also helps. When a client's terminal tractor is being serviced, it can rent a replacement, which creates a 'win-win' for both sides.

Woodliff and Dever say the toughest challenge Alley-Cassetty has faced in recent years is dealing with the fallout from more stringent diesel engine emissions standards that were imposed by the U.S. Environmental Protection Agency in 2008. The rules have resulted in cleaner-burning engines, but have placed higher demands on the dealership's service department due to more frequent issues such as check-engine lights.

"The support that dealers like Alley-Cassetty provide is what has helped sustain Kalmar Ottawa's leadership in the market," says Sipple. "We look forward to our continued partnership with the entire Alley-Cassetty team."
"The sale does not end when the truck is sold. The relationship continues for many years, and we've built the business on that basis."

Tommy Woodliff, General Manager, Alley-Cassetty